Golf fans, golfers and especially those sports betting fans who specialise in golf, know full well that golf is an unpredictable game. An errant gust of wind, a slightly uneven patch of grass, a squirrel stealing a ball – very few skill sports have as much inherent variance as the one played across 18 holes.
So when you are thinking of placing a bet on a round of golf, remember that the odds may not be what they seem. Just take a look at some of these incredibly unpredictable rounds of golf that no one saw coming…
A sudden death in 1989
José Maria Olazábal came into the 1989 KLM Dutch Open as a strong favourite, with a win and three runner-up finishes behind him that season.
With one round to go, he was three shots clear of the field and his victory looked close to a forgone conclusion. However, he struggled over the last 18 and was caught by not one but two players.
Olazábal, Ronan Rafferty and Roger Chapman faced a three-way sudden death playoff in the pouring rain over a loop of the 16th, 17th and 18th holes. Chapman fell at the first hurdle, but Rafferty and the Spaniard could not be separated until the ninth additional hole at 8.30pm.
Finally, Olazábal delivered despite the conditions being so testing that he scored nine over par for the extra nine holes played. This would remain the longest playoff in European Tour history until 2013.
The lowest round of golf ever?
Australian Rhein Gibson, 26, and two playing partners shot a round of 18 holes at the River Oaks Golf Club in Edmon, Oklahoma. His partners shot a very respectable 74 and 69, but amazingly they were 19 and 14 strokes behind as Gibson shot 55.
That round included 12 birdies and two eagles with not a hole over par. Gibson has a lot of experience on that course, having played there often when he attended Oklahoma Christian University.
Officially, the lowest round of golf ever played (according to the Guinness Book of Records) is a 58, shot by Jason Bohn, Shigeki Maruyama and Ryo Ishikawa. Lower scores have been posted, such as Gibson's, but to get in the Guinness Book of Records the game must be played in a professional setting on a course of over 6,500 yards.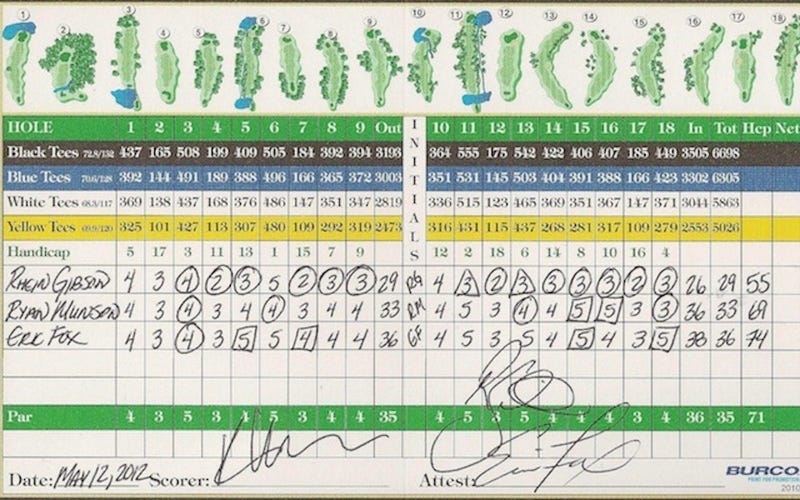 Charity a mistake in 1932
Way back when, before ESPN coverage and fancy titanium clubs, Al Watrous and Bobby Cruikshank went head-to-head in the 1932 USPGA Championshipt for a place in the round of 16.
Both veteran pros without a major title, they didn't seem likely to provide the most thrilling round in the tournament's history – especially when Watrous was nine up after 20 holes of the 36-hole match.
In fact, Watrous felt so sorry for Cruickshank that he gave him a six-foot downhill putt for a half. Little did he know, he had unleashed Cruickshank's inner Hulk.
So angered by the act of charity that he was as patronising, Cruickshank played a furious round and won nine of the next holes. The match finished tied and went to sudden death; after five more holes, Watrous missed from three feet and Cruickshank sealed the victory.
Five-iron action between hustlers
Legendary Texas road gambler and poker champion Johnny Moss was a fan of golf and playing games at online casinos. He saw the game as an opportunity for him to hustle and wagered that he could play a round of 9 holes and shoot under 45 – using only a five-iron.
Alvin "Titanic" Thompson, a very talented golf player (and hustler himself) took up Moss's bet. Little did he know that Moss had spent months practicing his swing with the five-iron and had become very capable with that specific club. On top of that, he'd paid the greenkeeper to keep the cups where he wanted them.
However, it didn't take long for Moss to realise something was amiss after missing a seemingly easy putt. On the second hole, he discovered that Thompson had been tampering with the cups by lifting them slightly with a pocket-knife. Moss sent a friend to the third green to flatten them while Thompson's friend was working on the fourth.
Eventually, Thompson came forward and said he'd call off his friend if Moss called off his. Moss shot 41 to win the bet, and he teamed up with Thompson after the match. The pair of them beat other golfers out of huge amounts of cash together over the years.
Shooting 93 over par in the PGA
Mike Reasor was not a well-established pro when he sat level par at the halfway point of the 1974 Tallahassee Open, having shot a respectable 73 and 71. Who could have predicted his next score?
After the second round, Reasor suffered an accident while horse-riding and was thrown into a tree. He sustained a leg injury, tore his rib cartilage and muscles in his left arm as well as getting a partially separated shoulder – ouch!
However, everyone who made the cut in the Tallahassee Open was exempt from the Byron Nelson Classic qualification, but only upon completing 72 holes. Reasor's combined 144 was good enough, but he was two rounds short.
What's a man to do but go out and play one-handed? Armed with just a five-iron and a putter, Reasor played two rounds and shot 123 and 114 respectively for a total of 93 over par.
"You should have seen them laughing on the first tee. I stepped up with a 5-iron and barely got it to the ladies' tees," he said.
Unfortunately, it was for naught – Reasor's injuries were too severe and he could not compete in the Byron Nelson Classic.