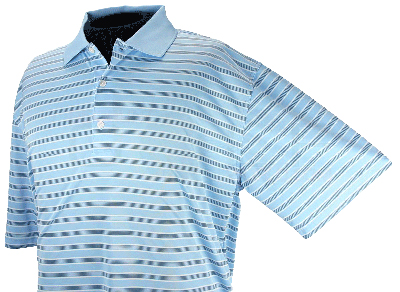 GREG NORMAN COLLECTION ADVANCES PERFORMANCE WITH ML50

Greg Norman, the leading worldwide golf inspired lifestyle apparel and accessories brand, continues to perfect performance with innovative fabric technologies for men and women. The newest Performance garment Play Dry ML50 Interlock Polo, combines lifestyle with unmatched fit and functionality.


MENS: ML50 Interlock Stripe Polo (above)


The mens striped polo offer natural 50+ UV protection and extreme moisture wicking properties. The super compact high-twist microfiber yarns and the special interlock construction, makes the Play Dry ML50 Interlock Polos 30% lighter than the average golf shirt.


The new Range is in stores now.





Built upon a unique combination of performance, luxury and style, Greg Norman Collection, a subsidiary of MacGregor Golf Company, is a leading worldwide marketer of golf-inspired sportswear for men and women, influenced by one of the world's leading golf professionals.


ABOUT SPORTE LEISURE Pty Ltd

Sporte Leisure is the official distributor for the Greg Norman Collection in Australia and New Zealand.

Sporte Leisure is a Sydney based company that specialises in the design, manufacture and distribution of Golf, Corporate, Tourist, Sporting and Promotional Apparel, Headwear and Luggage for both the Australian and International markets. Since commencing in 1991, Sporte Leisure has remained committed to supplying quality and value for money. Sporte Leisure is Australia's Number One Golf Apparel Brand.

Enquires : SPORTE LEISURE Pty Ltd
Telephone: 612 9693 5777
www.gncorporate.com.au