Cleveland Golf is releasing their latest flagship wedge, the RTX ZipCore. Cleveland Golf's RTX ZipCore will launch in Australia October 2020. RTX ZipCore is both radically new and ultra-familiar. On the inside, its new core has unlocked design freedoms pushing the performance beyond any wedge in Cleveland Golf's history. Yet on the outside, the sleek yet traditional design is familiar and inspires confidence at address.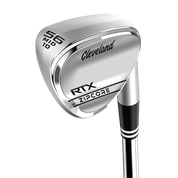 "Cleveland wedges are always just beautiful looking clubs, and this one is no different," said 2019 Open Champion Shane Lowry. "They're very traditional and I just love them. You need to be able to trust what your wedges are going to do, and RTX ZipCore does everything I need it to do. I couldn't ask for anything else in a wedge."
The foundation of RTX ZipCore is a unique, low-density core that sits at the heart of the wedge. This ZipCore makes you better by shifting the center of gravity, while also boosting High-Low MOI for more stability high and low on the wedge face. The result is that ZipCore puts more impacts on the sweet spot for more consistent spin, distance and feel on every shot.
Furthermore, RTX ZipCore features Cleveland's new UltiZip Grooves. Compared to previous generations, UltiZip Grooves are 11% sharper and 7.3% deeper, while also being 7.4% closer together for more groove contact area. The combination and optimization of these factors ensure that RTX ZipCore generates increased spin and consistent spin performance from any condition on the course.
To preserve the lifespan of our grooves, RTX ZipCore also features a new heat treatment to boost durability and maintain spin performance round after round.
"The new RTX ZipCore is a technological leap forward for Cleveland wedges," said Jeff Brunski, Vice President of Research and Development. "We've inserted a low-density core inside the clubhead, allowing us to create a wedge with unprecedented consistency and exceptional feel. They also feature our tour-proven grinds and most aggressive groove technology to date – all packaged in a sleek yet traditional design."
Key innovations inside RTX ZipCore:
ZipCore: ZipCore shifts the center of gravity while raising MOI, adding spin, enhancing control, and boosting consistency on all your shots.
UltiZip Grooves: These grooves are sharper and deeper, delivering maximum spin performance. They bite harder, channel more debris, and they're closer together for more groove contact on every shot.
Heat Treatment: A new heat treatment process increases ZipCore's durability, delivering better performance over a longer period of time.
Tour-Authentic Components: RTX ZipCore comes standard with the new True Temper Dynamic Gold Spinner Tour Issue shaft and the most popular grip in golf today with Golf Pride's Tour Velvet 360.
RTX ZipCore wedges are offered in a wide variety of lofts and sole grinds. The MID Sole grind is offered in 46 through 60 degrees, the LOW Sole grind is offered in 56 through 62 degrees, and the FULL Sole grind is offered in 54 through 60 degrees. The RTX ZipCore is available in Tour and Black Satin, with a raw finish coming later this year. Cleveland's RTX ZipCore wedges are priced at $209.00 RRP.
For more detailed information on the RTX ZipCore, please visit: clevelandgolf.com.