US Golf Digest Magazine did not produce a World Top 100 list until 2014, and updated their rankings two years later.
Unlike their Golf Magazine rivals, Digest rankers were not shy about making significant changes to their earlier listing as seen in the table below. Mysteriously, Ballybunion (ranked 27th in 2014) disappeared entirely from the 2016 listing whilst the humble Portmarnock links jumped from 83 to 25!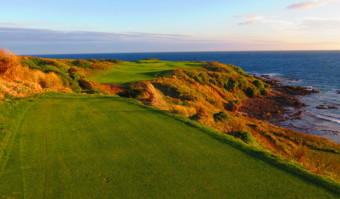 Other dramatic changes including a new No. 1, Royal County Down in Northern Ireland (up from No. 4 last time) and the "two hottest new layouts on the globe, No. 19 Cabot Cliffs in Nova Scotia and No. 24 Cape Wickham in Australia (pic left)".

Let ausgolf arrange your visit to King Island to play the new world No. 24
For further commentary see our comparison with other rankings.
To see how the Aussie courses fared click here
| | | | | |
| --- | --- | --- | --- | --- |
| Course Name | Location | Country | 2016 | 2014 |
| Royal County Down Golf Club | Newcastle, Down | N. IRELAND | 1 | 4 |
| Augusta National Golf Club | Augusta, Georgia | USA | 2 | 3 |
| Pine Valley Golf Club | Pine Valley, New Jersey | USA | 3 | 1 |
| Cypress Point Club | Pebble Beach, California | USA | 4 | 2 |
| Royal Dornoch Golf Club | Dornoch Highland | SCOTLAND | 5 | 6 |
| Royal Melbourne G.C. (West) | Melbourne, Victoria | AUSTRALIA | 6 | 9 |
| Shinnecock Hills Golf Club | Southampton, New York | USA | 7 | 5 |
| St. Andrews Golf Club (Old) | St. Andrews, Fife | SCOTLAND | 8 | 7 |
| Muirfield Golf Club | Gullane, Lothian | SCOTLAND | 9 | 8 |
| Merion Golf Club (East) | Ardmore, Pennsylvania | USA | 10 | 14 |
| Oakmont Country Club | Oakmont, Pennsylvania | USA | 11 | 10 |
| Pebble Beach Golf Links | Pebble Beach, California | USA | 12 | 15 |
| National Golf Links Of America | Southampton, New York | USA | 13 | 13 |
| Winged Foot Golf Club (West) | Mamaroneck, New York | USA | 14 | 24 |
| Fishers Island Golf Club | Fishers Island, New York | USA | 15 | 17 |
| Cape Kidnappers | Havelock North, North Island | NEW ZEALAND | 16 | 22 |
| Sand Hills Golf Club | Mullen, Nebraska | USA | 17 | 12 |
| Kingston Heath Golf Club | Melbourne, Victoria | AUSTRALIA | 18 | 20 |
| Cabot Cliffs | Inverness | CANADA | 19 | |
| Morfontaine Golf Club | Senlis, Senlis, | FRANCE | 20 | 32 |
| Hirono Golf Club | Kobe, Kobe | JAPAN | 21 | 18 |
| Turnberry Golf Club (Ailsa) | Turnberry, Strathclyde | SCOTLAND | 22 | 19 |
| Sunningdale Golf Club (Old) | Sunningdale, Surrey | ENGLAND | 23 | 41 |
| Cape Wickham | King Island, Tasmania | AUSTRALIA | 24 | |
| Portmarnock Golf Club | Portmarnock, Dublin | IRELAND | 25 | 83 |
| Carnoustie G.C.(Championship) | Carnoustie, Tayside | SCOTLAND | 26 | 31 |
| Royal Portrush Golf Club (Dunluce) | Portrush, Antrim | N. IRELAND | 27 | 16 |
| Seminole Golf Club | North Palm Beach, Florida | USA | 28 | 43 |
| Ellerston Golf Course | Scone, New South Wales | AUSTRALIA | 29 | |
| New South Wales Golf Club | La Perouse, New South Wales | AUSTRALIA | 30 | 33 |
| Crystal Downs Country Club | Frankfort, Michigan | USA | 31 | 25 |
| Chicago Golf Club | Wheaton, Illinois | USA | 32 | 26 |
| Barnbougle Dunes | Bridport, Tasmania | AUSTRALIA | 33 | 11 |
| Muirfield Village Golf Club | Dublin, Ohio | USA | 34 | 53 |
| Royal Birkdale Golf Club | Southport, Merseyside | ENGLAND | 35 | 38 |
| Oak Hill Country Club (East) | Rochester, New York | USA | 36 | 58 |
| Shanqin Bay Golf Course | Hainan | CHINA | 37 | |
| Oakland Hills C.C. (South) | Bloomfield Hills, Michigan | USA | 38 | 67 |
| Pacific Dunes Golf Club | Bandon, Oregon | USA | 39 | 21 |
| Barnbougle Lost Farm | Bridport, Tasmania | AUSTRALIA | 40 | 23 |
| St. George's Golf Club | Islington, Ontario | CANADA | 41 | 30 |
| The Country Club (Open) | Brookline, Massachusetts | USA | 42 | 71 |
| Links at Farncourt | | S. AFRICA | 43 | 34 |
| Kiawah Island (Ocean) | Kiawah Island, South Carolina | USA | 44 | 60 |
| Royal St. George's Golf Club | Sandwich, Kent | ENGLAND | 45 | 66 |
| Yas Links | | UAE | 46 | nr |
| Royal Porthcawl | Porthcawl | WALES | 47 | 44 |
| Wade Hampton | | USA | 48 | 69 |
| Kauri Cliffs | Kerikeri, Northland | NEW ZEALAND | 49 | 39 |
| North Berwick (West) | North Berwick | SCOTLAND | 50 | 65 |
| Whistling Straits Golf Club | Haven, Wisconsin | USA | 51 | 48 |
| Diamante | Cabo San Lucas | MEXICO | 52 | 55 |
| Friars Head | Baiting Hollow, New York | USA | 53 | 37 |
| Trump International Menie | Balmedie | SCOTLAND | 54 | 56 |
| Royal Melbourne G.C. (East) | Melbourne, Victoria | AUSTRALIA | 55 | 28 |
| Casa De Campo (Teeth of the Dog) | La Romana | DOM. REP. | 56 | 85 |
| Riviera Country Club | Pacific Palisades, California | USA | 57 | 47 |
| Sentosa GC | | SINGAPORE | 58 | |
| Prairie Dunes Country Club | Hutchinson, Kansas | USA | 59 | 36 |
| Los Angeles C.C. (North) | Los Angeles, California | USA | 60 | 45 |
| Swinley Forest | Ascot | ENGLAND | 61 | 54 |
| Alotian Club | Arkansas | USA | 62 | |
| Pinehurst Country Club (No. 2) | Pinehurst, North Carolina | USA | 63 | 46 |
| Kawana Golf Club (Fuji) | Shizuoka, Shizuoka | JAPAN | 64 | 51 |
| Lahinch Golf Club | Lahinch, Clare | IRELAND | 65 | 64 |
| National Golf Club | | CANADA | 66 | 61 |
| Southern Hills Country Club | Tulsa, Oklahoma | USA | 67 | |
| Gozzer Ranch | Idaho | USA | 68 | |
| Kingsbarns Golf Club | St. Andrews, Fife | SCOTLAND | 69 | 50 |
| Cabo Del Sol (Ocean Course) | Los Cabos, Baja | MEXICO | 70 | |
| Valderrama Club de Golf | Sotogrande Cadiz | SPAIN | 71 | 49 |
| The Honors Course | Tenn | USA | 72 | 95 |
| Shadow Creek | Las Vegas, Nevada | USA | 73 | 75 |
| The Bluffs Ho Tram Strip | Vung Tau | VIETNAM | 74 | |
| Spring City (Lake) | Kunming | CHINA | 75 | 92 |
| Punta Espada | Cap Cana, | DOM. REP. | 76 | |
| Olympic Club (Lake) | San Francisco, California | USA | 77 | 63 |
| Memphremagog Golf Club | Magog, Quebec | CANADA | 78 | 0 |
| Nine Bridges | Bongsong-ri | KOREA | 79 | 59 |
| Peachtree GC | Atlanta, Ga. | USA | 80 | |
| San Francisco Golf Club | San Francisco, California | USA | 81 | 29 |
| Royal Lytham & St. Annes G.C. | Lytham St. Annes, Lancashire | ENGLAND | 82 | 81 |
| The Els Club Teluk Datai | Pulau Langkawa | MALAYSIA | 83 | |
| Nirwana Bali GC | Tabanan | INDONESIA | 84 | 52 |
| Tokyo Golf Club | Tokyo | JAPAN | 85 | |
| Sheshan International G.C. | Shanghai | CHINA | 86 | 82 |
| The National GC (Old) | Cape Schanck, Vic | AUSTRALIA | 87 | |
| Leopard Creek | Malelane | SOUTH AFRICA | 88 | 84 |
| The Golf Club | New Albany, Ohio | USA | 89 | 80 |
| Bandon Dunes (Kidd course) | | | 90 | 62 |
| Macrihanish | Macrihanish | SCOTLAND | 91 | 57 |
| Sunningdale Golf Club (New) | Sunningdale, Surrey | ENGLAND | 92 | 91 |
| Cabot Links | Inverness | CANADA | 93 | 42 |
| Sebonack | Southampton, New York | USA | 94 | |
| Emirates GC | Dubai | UAE | 95 | |
| Naruo | Inagawa | JAPAN | 96 | |
| Jumeirah G Estates (Earth Course) | Dubai | UAE | 97 | |
| Querencia CC | Los Cabos, Baja | MEXICO | 98 | |
| Gary Player CC | Sun City | SOUTH AFRICA | 99 | |
| Olgiata GC (West) | Rome | ITALY | 100 | |